HOME>CSR>Other Sponsorship Projects


Charity Bazaar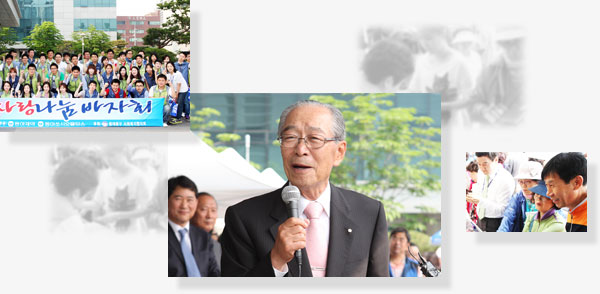 Our employees' Charity Bazaar, launched in 2009, aims to not only promote community development but also conduct community outreach activities.

At lower-than market prices, we sell diverse products such as Dong-A Pharmaceutical's health foods (Omega 3, glucosamine, vitamins), mouthwashes (toothpaste, dental brushes, Gagarin), house supplies (dyestuff, bands, etc.), Dong-A Otsuka beverages (Pocari Sweat, Oran-C, etc.), and other products (Evezary, cosmetics, Sunchang red pepper paste). The proceeds from these sales are used to help low-income families and other marginalized members of the society.
Meal Dispensing Campaign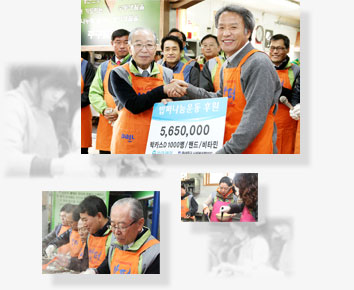 Since 2005, our employee volunteer club has participated in the dispensing of free meals at the Bopper Sharing Campaign Headquarters, and has donated products and money.

We dispense free meals to the elderly people living alone, the homeless, and other marginalized people. We also donate money and products such as Bacchus D, vitamins, and bands.

Our monetary donations are used to enable the physically weak elderly, homeless, and other marginalized members of our society to buy winter clothes. We vow to continue these community outreach activities.
Sponsorship for Africa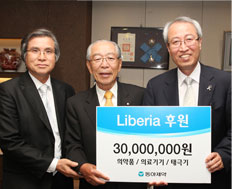 Starting this year (2013), together with Miral Welfare Foundation, Dong-A Socio Group is set to engage in sponsoring Africa. Liberia, which we are going to sponsor this time, is located in West Africa, and has a per-capita income of USD450., making it one of the poorest nations in the world. It has also suffered from a 14-year civil war. Our aid to the African people suffering from starvation and diseases include KRW30 million+ worth of medicines, medical devices, and taegeugi national flags. We will also offer education to inspire them to go beyond a life of mere survival.

We will endeavor to give hope to the children in this land of despair by teaching them mathematics and taekwondo, thus helping them develop survival skills and fostering their self-reliance.
Our other community outreach activities include Bacchus Club's environmental clean-up campaign, Jjokbangchon Club's rice delivery project, and the new-employee club Hyangnimwon's activity. Through these activities, we endeavor to share true love with communities, and to establish a culture of sharing.