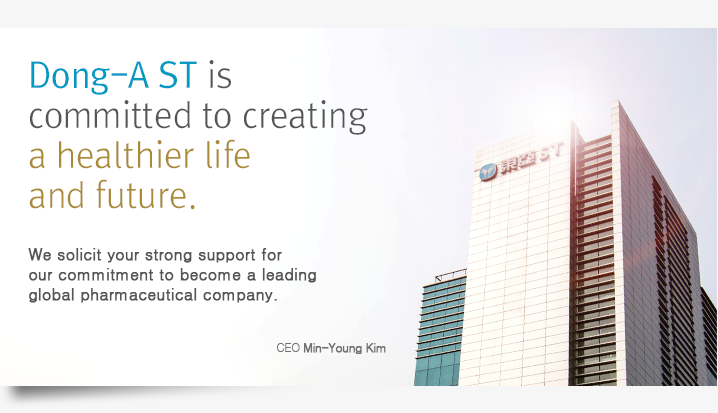 Greetings to all of you!
We would like to express our sincere gratitude to you for your strong support for Dong-A Pharmaceutical over the past 80 years. With Dong-A Pharmaceutical switching to a holding company system, Dong-A ST has just been launched, specializing in the manufacture and sales of ethical drugs.

Dong-A ST aims to become a global pharmaceutical company. With its optimized research infrastructures such as its world-class, sophisticated research center completed in 2011, as well as its excellent researchers, Dong-A ST is furthering its efforts to develop global new drugs. Also, with the backing of these infrastructures, Dong-A ST vows to positively explore overseas markets, to expand its overseas exports, and to establish itself as a global pharmaceutical company, operating beyond the domestic market.

Dong-A ST vows to create a healthier life and future for everyone, free from diseases, in a specialized environment. We are soliciting your sustained support for our efforts to become a global market leader.

Thank you very much.